Crocetin
Small molecular structure helps to deliver the Goodies to your Cells
Derived from the Cape Jasmine Gardenia Fruits.
Both water and oil soluble, it improved absorption of products.
Tests shown absorption rates increased time dropped from 2 hours to 20 minutes!
---
Naturally Plus Adds Crocetin to 5th Generation Super Lutein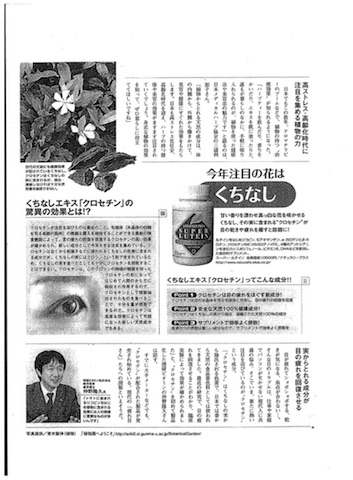 True to Naturally Plus' Products' Philosophy of enhancing products in line with cutting edge contemporary research, Crocetin was added to the 5th (current) generation of Super Lutein - in April 2008
Naturally Plus' Crocetin is produced by Riken Vitamin Factory in Kyoto. Riken specialises in research and extraction of colour pigments from natural materials.
---
Naturally Plus Products

>

Super Lutein

> Return to the Top - Crocetin
Check out Naturally Plus' products today!!!
Go on, pamper yourself ... you deserve it!
Health and Food Supplements
... Naturally of the Best Ingredients
Natural Skin Care, Body Care
... for the Natural Beauty in You...
---
Please note the availability of products, can be different for each country or hub.
If the product you are looking for is not available in the salon of your country of residence or hub of your membership, please contact us.

---