Company's Endorsements and Awards
2004 Ranked 5th MLM Company in Japan, out of 3,600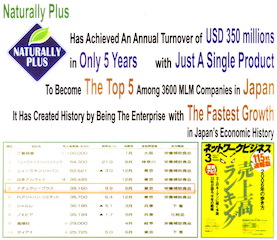 In just 5 years, Naturally Plus emerged as the top 5 MLM company in Japan, out of 3,600 MLM companies in the Japanese market. (Subsequently moved up to Top 2, see below)

At that time, it had only 1 product, Super Lutein.
---
2004 ISO 9001 Accreditation
This is certification for international standards for quality assurance that meets both Customers' and Stakeholders' needs.

Naturally Plus has continued to maintain this accreditation.
---
2005 Achieved High Ranking Amongst Business Communities in Japan

Keizaikai (authoritative business magazine in Japan) voted Naturally Plus Japan's Top 10 Most Competitive Enterprises of the 21st Century.
Voted the 4th most successful enterprise that contributed to the Economic Recovery of Japan, out of 100,00 Japanese Enterprises, by "Japan Special Enterprise Planning" Vol 2.

Astounding achievements for such a young company with only 2 products with markets in only 2 countries at that time.
Its success can only compound as it grows globally and adding to its suite of products.
---
2005 Became Member of National Nutritional Foods Association of Japan (NNFA)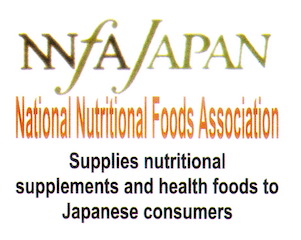 Naturally Plus became a member of NNFA to help drive the developments of the health and food supplement industry's of Japan

Its proven track records in the health and supplement industry made it a valuable member of the association

Please note that NNFA has since changed its name to AIFN (The General Incorporated Association of International Foods & Nutrition)
---
2008 Unprecedented Japanese Imperial Endorsement
His Imperial Excellency Prince Tomohito, a member of the Japanese Imperial Family, endorsed Naturally Plus in his speech at a Naturally Plus convention.
This endorsement by a member of the Royal Family, is deemed unprecedented, as no Royal Family member has ever done this before...till this time in 2008, that is.

---
2009 Ranked No. 2 out of 4,000 MLM Companies in Japan, with only 2 Products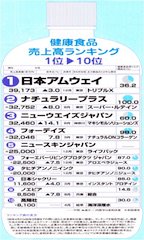 Ranked as 2nd Top MLM company in Japan, out of 4,000 MLM companies, competing amongst more established MLM companies, and companies with many more products.
Climbed from 5th Position (out of 3,600 MLM companies) in 2005, in an ever expanding health and food supplement industry.
At this stage, Naturally Plus had only 2 products - Super Lutein and Izumio.
Super Lutien and Izumio continue to maintain their respective No.1 positions, in their respective category of health supplements.
---
2009 NetWork Magazine Commend Naturally Plus for Its Outstanding Achievements
The NetWork Magazine, a well established magazine on MLM in Japan, wrote an article on Naturally Plus' Outstanding Achievements for such a young company, and with only 2 products.
---
Teikoku High Rating Reflects Honest Management and Financial Stability

Integrity and Financial Stability = Factors for Strong, Continuous Growth

Naturally Plus, a Zero Debt Japanese Enterprise

Similar AAA ratings to Toyota

Its credit ratings today continued to remain strong --- and will only grow stronger as it gains market share globally
---
Japan Health Supplement and Food Good Manufacturing Process (GMP) Certification

Naturally Plus was awarded the Japanese Health Supplement Food GMP Certification for its stringent manufacturing processes - for both raw materials and the finished products.

This certification together with ISO 9001 certification ensures that its products are consistently of the highest quality, based on good manufacturing and distribution practices.
---
Not just the Company is famous, but Naturally Plus' products, too!

Not only the company receives endorsements and awards, Naturally Plus' products, too, have receive awards and endorsements.

---
Check out Naturally Plus' products today!!!
Go on, pamper yourself ... you deserve it!
Health and Food Supplements
... Naturally of the Best Ingredients
Natural Skin Care, Body Care
... for the Natural Beauty in You...
---
Please note the availability of products, can be different for each country or hub.
If the product you are looking for is not available in the salon of your country of residence or hub of your membership, please contact us.

---
Naturally Plus' Products

>
Return to the Top of Page - Super Lutein