Paramylon ARX, the Wholistic Gut-Health Supplement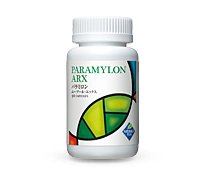 Paramylon ARX did not start out to be a weight management solution. Just like it's pioneer sibling product, Super Lutein, which started out as a eye care product, but subsequently proved to be "more than meets the eye"...many have attested to its helping hand in other health challenges arena.

Now, Paramylon ARX was developed to target colon health. But the bonus result, is natural weight management from a healthy gut.

How?
It contains paramylon, a special type of fiber like nutrient - structure that functions like fiber, but at the same time, it's sponge like character meant that it can absorbs toxins for elimination. Paramylon, is obtained from Euglena Gracilis, a type of micro-algae - which is part plant and part animal.

Yet, paramylon does not have the cellulose cell wall, that most plants that provides fiber, do. This means that the 59 nutrients that can be obtained, from Euglena Gracilis, can be more readily digested, and absorbed by the human bodies.
Paramylon ARX, also has pro-biotic (friendly gut bacteria).
Also, contains Xylo-oligosaccharides, a type of pre-biotic, to help the colonies of friendly bacteria in the gut, to thrive.

And to ensure, the paramylon, probiotic and the prebiotics, are "safely" delivered to where they can be optimally utilized, - that is, in the intestine and colon (as stomach acid can destroy the friendly bacteria), Paramylon ARX are made from specially patented capsule, FLORA PEPTIDE™.
That's why I call Paramylon ARX, the "wholistic" gut friendly supplement!
fiber to clean the gut

sponge like fiber, to absorb toxins (including heavy metal toxins), for elimination.

pro-biotics (friendly bacteria) to breakdown nutrients for absorption, and breakdown waste for disposal.
pre-biotics to help ensure a healthy environment for friendly bacteria to thrive in
Flora Peptide, patented and specially formulated, capsule to ensure delivery of the goodies to where it matter -- the gut!
Wholistic enough for you?

Can be for Weight Management Solution, too

And as a result of the above, as the colon and intestine become healthy, or healthier; which in turn will improve the absorption of nutrients, and removal of waste (and toxins); and all these will inevitably lead to a better weight management scenario.
Hence, while it really is just GBF (gut's best friend!), to many of its fan, it is synonymous with weight management!!!

Paramylon ARX45 - enhanced version

The patented formula of this Paramylon ARX mainly contains :

Euglena gracilis and a compound of 2 acid bacteria "Euglena NX".
Paramylon ARX Ingredients

PARAMYLON ARX - each bottle contains :

38.7g (430mg x 90 capsules)

Ingredients:
Euglena gracilis, Starch, Spore Forming Lactic Acid Bacteria, Enterococcus faecalis EC-12(heat treated), Corn syrup powder, Hydroxypropyl methyl cellulose silicon powder, Calcium stearate, Titanium Dioxide, Dextrin

Nutrition facts :
Per 3 capsules (1.29g) (Actual measurement)

Energy 4.90kcal
Protein 0.38g
Total fat 0.07g
Saturated fat 0.07g
Trans fat 0.00g
Carbohydrates 0.61g
Sugars 0.02g
Sodium 2.90mg
Euglena 900.0mg
Enterococcus faecalis EC-12 (heat treated) 25.0mg
Spore Forming Lactic Acid Bacteria 25.0mg
---
For more information on Paramylon ARX, please visit Naturally Plus' sites:
http://www.naturally-plus.com/en/sg/products/paramylonarx.html

---
Naturally Plus' Products

>
Return to the Top of Page - Paramylon ARX
Check out Naturally Plus' products today!!!
Go on, pamper yourself ... you deserve it!
Health and Food Supplements
... Naturally of the Best Ingredients
Natural Skin Care, Body Care
... for the Natural Beauty in You...
---
Please note the availability of products, can be different for each country or hub.
If the product you are looking for is not available in the salon of your country of residence or hub of your membership, please contact us.

---