Naturally Plus
- No. 1 Health Supplement Company in Japan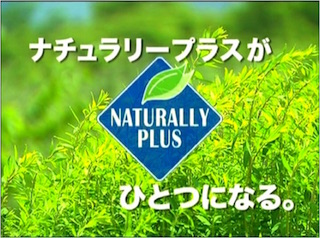 Headquarter :
35, Izumi Garden Tower, 1-6-1 Roppongi, Minato-ku, Tokyo, 106-6035, Japan.

www.naturally-plus.com
---
Currently, in 12 countries - Japan, Taiwan, Hong Kong, Singapore, Malaysia, Korea, Indonesia, Thailand, Brunei, Philippines, Vietnam,  and USA - and with a global hub, in Hong Kong, servicing the rest of the world.

Company's vision is to establish in more than 120 countries globally !!!
---
In the beginning, who would have thought that an artist looking for natural health supplements only to preserve his eyesight, would have led to a global product that would heal so many - and in such short years since its launch in March 1999.

The artist researched natural ingredients to create a formula for eye health and eventually, with the help of natural health professionals formulated the first generation of Super Lutein. Even in its original formula, it was an instantly accepted product as many who tried, healed from their health issues - many who tried were on the verge of desperation having been told that no medication could save them ... in those days.

Super Lutein not only healed eye health issues but as evidenced, to the surprise of many, it healed other health issues as well. Hence, those who were "miraculously" healed by taking Super Lutein dubbed Super Lutein as the "miracle" product. That's how it got it's nickname.

Super Lutein evolved into more potent combinations, with each generation an enhancement of the last .... and the current is the 5th generation.

Then came Izumio, Hydrogen Rich Water, in 2007. It, too, went on to pleasantly surprise to be a healing product for many different types of health issues.

Thus, it was dubbed the "other miracle" product by those who were healed by this hydrogen rich water.

Today, Naturally Plus continues to plough funds into research of natural products. It has recently introduced to the world natural skin and beauty care products - Lute and AurAge.

The company continues to be a strong advocate in natural ingredients and natural products that will both be of great benefits to people (and animals) as well as the environment.

---
Brief History of Rise of Naturally Plus

March 8, 1999
Naturally Plus Co., Ltd. (Ariake, Tokyo) established in Tokyo, Japan with capital of 80 Million Yen, with just One Product – Super Lutein
Year 2000
Began their corporate welfare support - their first association was the Japan Guide Dog Association. The commitment to support welfare organizations began very early in the company's history.
Year 2002
Held the First Festa, Naturally Plus Festa 2002 - in just 3 years, membership has grown considerably to warrant a conference to bring members together in one forum. (Festa is now an annual event).
Year 2003
NDS (Naturally Plus Data Station ) system introduced - an online facility for members to view their account. Showed Naturally Plus' commitment to move with the time.

Osaka Branch opened

First salon in Taiwan established, Naturally Plus Taiwan Co. Ltd.
Year 2004
Grand Opening of Taiwan's first salon, Naturally Plus Taiwan Co., Ltd.

Held First Dash Convention 2004 (Taiwan Festa 2004), in recognition of outstanding members. (Dash is now an annual event!)

Naturally Plus Japan awarded ISO9001 accreditation.

Gold Medalist winner of the 1st Best Consumption Brand Award, Taiwan.

Capital increased from 80 million yen to 480 million yen. This monumental leap in capital investment was another sign that the company intends to grow, and grow exponentially.

Within 5 years, achieved an annual turnover of USD350 MILLION

Created history of being "The Fastest Growth Enterprise" in Japan's Economic History
Year 2005
Naturally Plus Japan was voted by Japan's Keizaikai magazine (authoritative business magazine in Japan) as Japan's Top 10 Most Competitive Enterprise of the 21st Century

"Japan Special Enterprise Planning" Vol 2 ranked Naturally Plus 4th most Successful Enterprise, out of 100,000 Japanese enterprises that contributed towards the recovery of Japan's economy
Became the 5th largest multi-level marketing (MLM) company in Japan, out of 3,600

Voted as one of the most competitive brands of health food supplement at the third summit of Asia Pacific MLM leaders.

Became a member of NNFA Japan (The National Nutritional Food Association of Japan). (Now called AIFN (The General Incorporated Association of International Foods & Nutrition))

Teikoku Rating, a corporate credit research company in Japan, gave Naturally Plus a rating of 55 points (where top points =60, and both Toyota and Sony which are considered in the top ranks both scored 56 points each)

Achieved Triple A Financial Ratings, same as Toyota.
Taichung (Taiwan) Branch Office opened

Hokkaido and Fukuoka (Japan) Branch Office opened

Membership surpassed one million

As part of its growing Corporate Social Responsibility initiatives, began its association in support of Bird Life Asia
Year 2006
Kaohsiung (Taiwan) Branch Office opened

Awarded Asia Pacific's "Top 10 Best Health Supplements with Most Competitive Edge" the Award, Taiwan
Year 2007
Hydrogen Water IZUMIO went on sale for the first time

Opened salon in Hong Kong, second country outside of Japan
Year 2008
Hydrogen Water IZUMIO reformulated.

Unprecedented endorsement by a member Japanese Imperial Family, at a Naturally Plus Convention.

Published its 100 Years Plan, a blue print of the company's intended future expansion; a firm commitment made by Naturally Plus to take the company forward and into the Global markets.

Sales Record for the Year in Japan for both Super Lutein and Izumi.
Year 2009
Grand Opening of Naturally Plus Malaysia Sdn. Bhd

Awarded 2nd Top MLM company in Japan, out of 4,000 MLM companies. Moved from the 5th ranking in 2006, in just 3 years in an ever increasing MLM market.
Year 2010
Naturally Plus Taiwan was awarded "2009 Fastest Growing Direct Selling Companies" by The 6th Asian Pacific Direct Selling Forum

Grand Opening of Naturally Plus Korea co.,Ltd

Introduced Paramylon ARX, a dietary/weight loss supplement
Year 2011
Opened salon in Indonesia

Introduced body care products, Lute

Introduced skin care products, AurAge

Introduced health and beauty care drink, AND AurAge

Adding to its range of products reflects the company's plan for expansion. 

Super Lutein and Izumio continued to maintain No.1 position for health supplements in their respective category
 Year 2012
---
Our apologies as we haven't kept up with Naturally Plus' history, and its achievements...as it keeps winning awards and getting industrial endorsements, we just having a little of time management trouble keeping up with this recording.
But hopefully this brief history will give you an idea, how far it has come, and how in its short history, what it has achieved... but most important of all, not written up here, is Naturally Plus' products impact on over 1.5 Million consumers to-date (and still growing, by the day!).

---
Corporate Social Responsibility

Naturally Plus' Corporate Social Responsibility Involvements:

Red Cross

Guide Dogs Associations

Associations for the Blind

Many more …

Plus local involvement in different countries where its operating.

---
Just a couple of examples:

Naturally Plus' very own Guide Dogs Training Center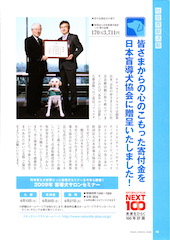 Naturally Plus has a Guide Dogs Training Center in Japan.
---
Product in Support of Children's Charity - Japan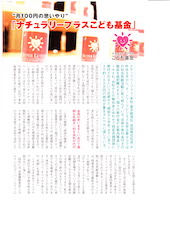 Super Lutein in it's special pink packaging in support of a Children's Charity Organization
Members can elect to purchase Super Lutein in this special packaging, where a defined portion of the purchase price will be given to this charity
---
Of course, through passage of time, Naturally Plus will support more and more charities and social welfare organizations... , and possibly, some may go, but overall, it will only expand its Corporate Social Responsibility activities.
Check out the USA site:
http://www.npusainc.com/us/en/company/giving_back/

---
To find out more about the company?
Please visit the any of the company's website ... but here's the Naturally Plus USA's site link :

http://www.npusainc.com/us/en/company/

You can chose the language choice in the menu on the bottom page of the site.

---
Naturally Plus' Products

>
Return to the Top of Page - Naturally Plus-The Company
Check out Naturally Plus' products today!!!
Go on, pamper yourself ... you deserve it!
Health and Food Supplements
... Naturally of the Best Ingredients
Natural Skin Care, Body Care
... for the Natural Beauty in You...
---
Please note the availability of products, can be different for each country or hub.
If the product you are looking for is not available in the salon of your country of residence or hub of your membership, please contact us.

---