Why Naturally Plus should be the MLM of Choice ?
Great Reasons to Join Naturally Plus

Low capital out lay

– only requires your consumption. There is no need to purchase stocks and keep inventory. There is no monthly target required, except that set by yourself ... and only if you choose to.

New Company in the Market = ENTRY level and HUGE untapped market. Only in 7 countries now, opening up in 120 more.
Its hybrid marketing reward system promotes co-operative teamwork among members plus making rewards earning within the power of its members
Strong, well rated company with a proven 13 years solid track record
Strong Company support

No borders – in fact Naturally Plus members are encourage to cross borders, to share the healing testimonials of many members and to spread the good news as well and as fast as possible.

Reliable and sellable products that sell themselves, evidenced by the many awards it has won in a highly competitive supplements market, a notable achievement for such a relatively young company, plus the testimonials of its increasing members from their healing testimonies

Continual Products Enhancements in line with most recent scientific research

Suite of products are only small

so it's an easy learning curve in terms of product knowledge. For health supplements there are only 4 products, which are "all-in-one" products of their own merits in their own respective categories
More Good News !
No keeping of inventories – company makes delivery for you.

No monies collection required from members for products purchased by own membership – company does collection.

No quota – set own target, only if you want to.

No ranking – every member has access to same rewards as long as entitlement conditions are met.

Auto system helps you "balance" your Lines/Legs – in case sponsoring member forgets to specify positioning placements or if sponsoring member chooses not to do the positioning placements.
Points are not lost unless membership has been terminated or suspended or if maximum points have been achieved.
Pros of Naturally Plus Hybrid Binary Reward System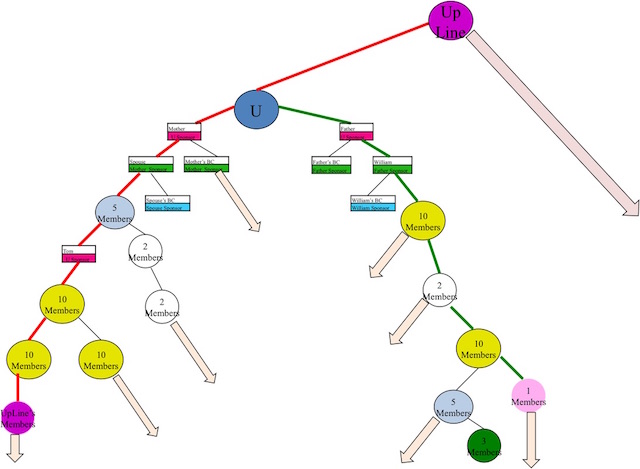 Super Binary System allows "depth" of group (the group can grow many layers below you- unlimited depth), and the system encourages "Team Power"
Comparison With Other MLM systems
Low Capital
Capital outlay monthly is equal to consumption of one of the health products.The equivalent of approximately USD100, depending on prevailing exchange rates
Young and Rapidly Expanding Company with More Than 100 Countries To Conquer
New Products means new opportunities.

New markets means new opportunities. Yes, there are more established MLM companies out there, even in the health and food sector. However, Market saturation creates hurdles for new members.

Ground or Pioneer members have greater opportunities. More established members of the more established MLM companies were pioneer members of their companies. Their success stories as pioneering members in these long established companies stands as evidence the greater advantage of being the pioneering members of Naturally Plus today, to capture the untapped market share. Only 7 countries today, more than 100 untapped markets globally to consider
Binary System Promotes Co-operative Successful Teams
Some MLM systems like the Military structure or the Sun Ray structure where growth is horizontal, inevitably promotes competition amongst members, even amongst members of the same team leader/upline. The Binary system promotes growth in the vertical heirarchical movements. This promotes support for each member of the group.
Some MLM system also allows team members to break away from the group. Usually downlines are nutured and mentored by the uplines and the breakaway will disadvantage the uplines. This sometimes promotes reluctance of uplines to nuture donwlines sufficiently.
Illustrated as follows ...
No Stocking up Required, No Delivery Required
Products are purchased by members directly from Naturally Plus. Members are not expected to purchase stocks for re-sale.
Once a new member joins, the company takes over to deliver the products.

No Rank and File to Chase, No Quotas to Meet, No Stress
Every member is of the same rank and there is no need to reach a particular ranking to achieve certain level of discounts
Every member pays the same price and has access to the same bonuses, only if they wish to achieve these bonus
Members can choose to be consumers only but the binary system will inevitably built downlines for the members through the Binary System
Members can choose to built a business and again teh Binary System promotes eaiser achievement of goals
Points can be maintained and there is even a system to help position new members
Points are not lost if members maintain their membership, adhering to the membership rewards rules, and have not hit the ceiling
Naturally Plus even created a system that aids the positioning of new members to ensure that members will always be allocated a position in the heirarchy to start earning their points as soon as the entitlements are met.
---
---
Naturally Plus Products

>

Naturally Plus' Marketing System

> Return to the Top - Why Naturally Plus?
Check out Naturally Plus' products today!!!
Go on, pamper yourself ... you deserve it!
Health and Food Supplements
... Naturally of the Best Ingredients
Natural Skin Care, Body Care
... for the Natural Beauty in You...
---
Please note the availability of products, can be different for each country or hub.
If the product you are looking for is not available in the salon of your country of residence or hub of your membership, please contact us.

---