Naturally Plus' Products' Endorsements and Awards
Products' Endorsements

Endorsed by Japanese Association of Preventive Medicine for Adult Diseases
The Japanese Association of Preventive Medicine for Adult Diseases consists of a panel of 6,600 doctors.
The panel reviews 20,000 to 30,000 products each year.
And only recommends 20 (maximum) per year.
For each of the products' endorsement, all 6,600 doctors must agree to it. The endorsement must be unanimous.
Super Lutein is one of their endorsement.

---
Awarded Japanese Health Supplement And Food Good Manufacturing Practice (GMP) Certification

To obtain this certification, stringent standards must be met for both raw materials and the finished product.
Naturally Plus has continued to receive this certification.

---
Endorsed by Japan Health Supplement Food Research Institute
Naturally Plus has a reputation of making sure its products are of the highest qualities based on best and more recent scientific research
Its product developments take pride in aiming for prefect product before the products are released in the markets
It is these qualities that the Health Supplement Food Research seeks to endorse in Health and Food Supplement companies
---
A Rare Royal Endorsement

A Page of a Japanese Magazine
In 2008, His Imperial Excellency Prince Tomohito gave his "royal endorsement" at a Naturally Plus Convention. This was considered a rare historical endorsement as no Royal Family member has ever spoken up for a health supplement before.

How about that for an unprecedented Royal Seal of Approval?! Excellent record!
Is its a big deal?! I suppose...when there has never been a member of the Japanese Royal Family, speaking up for a health product before.

---
Only 5 years old, already in the Top 5 of MLM companies in Japan.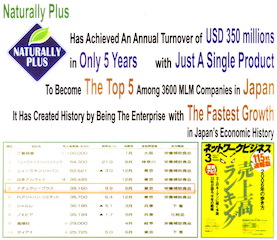 Only 10 years old, and comes second in Japan, only to Amway.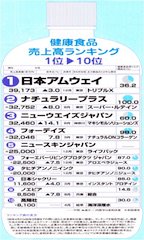 ---
Products' Awards

And after Super Lutein branched out of Japan...the first country out of Japan to have the good privilege to experience such a wonderful product was Taiwan.
2004 Awarded Gold Medal for First Consumption Brand, Taiwan
Within a year's presence in Taiwan, Naturally Plus received it's first award in Taiwan.

---
2006 Awarded Taiwan's Consumers' Association No. 1 Brand
Prestigious award in recognition as a top consumers brand, within 2 years of establishing in Taiwan.
---
2006 Top 10 Best Health Supplements Award, Asia Pacific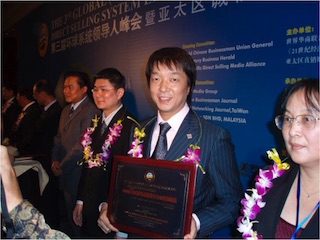 Super Lutein was awarded Asia Pacific's Top 10 Health Supplement with the Most Competitive Edge, in a Taiwan award ceremony.

---
And Naturally Plus' products continue to win awards...




Ok, I hear you...only 3 products winning top awards... but at this point, there were only 3 health supplements by Naturally Plus! That would make it 100% of its health supplements winning top awards?!
Something good to consider? Check out Naturally Plus' full suite of products today! (Scroll down to view)

---
The Best Endorsements and Awards By Far
The testimonials and endorsements by over 1 Million consumers - yup, you have read the number correctly!- in over 11 countries and hubs Naturally Plus is now operating in. (And it intends to increase its presence in many more countries).
The many healing stories from different people from all walks of life, with different health issues.
Members who are healing (me including) or has healed, made it their mission to spread the words of these "miraclous" products.
Against the odds, or "written off" by conventional medicine, many healed and lived to tell their tales, some 15 years on ...

Short of being called "Miracle Healings", these members are the strongest and most convicted ambassadors of Naturally Plus products, in particular Super Lutein and Izumio.
Many stories are shared in the "Testimonials" section.

(Please click on "Testimonials" and witness for yourself)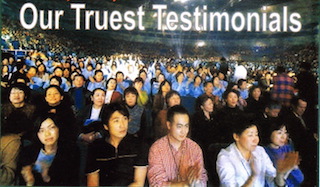 ---
Check out Naturally Plus' products today!!!
Go on, pamper yourself ... you deserve it!
Health and Food Supplements
... Naturally of the Best Ingredients
Natural Skin Care, Body Care
... for the Natural Beauty in You...
---
Please note the availability of products, can be different for each country or hub.
If the product you are looking for is not available in the salon of your country of residence or hub of your membership, please contact us.

---
Home

>
Return to the Top of Page - Products' Endorsement