Purificar, Superb Fiber Nutrients


Purificar, contains S-Fiber, a blend of 5 types of fiber, of both soluble and insoluble types.
insoluble fiber - helps to move waste along, including yeast and fungus, which if excreted through the skin causes skin problems such as acne or rashes.

soluble fiber - helps with digestion, control blood sugar (by slowing down carbohydrate breakdown and absorption of sugar, controlling blood sugar, which in turn may help with reducing risks of gall stones and kidney stones), and weight management (by inducing the feeling of fullness).


Purificar, also contains:
camu camu - known as "king of natural vitamin C", and contains other nutrients as well.

xylo-oligosaccharides -prebiotics that promotes the growth of good bacteria in the colon and intestine.

enzyme complex - 7 different enzymes to aid digestion.

gum arabic - providing support from digestion to helping to move waste along.
---
Health Aid, from End to End

Purificar was developed after 3 years of in-house research; it is meant to target the health of the digestive track - mainly, from stomach through to the bum.
But I call Purificar, the health supplements that is a healthy aid from end to end - from mouth to bum, that is. Sorry, if you suddenly had a graphic flash in your mind ... but that's the truth about Purificar.

Let's start with - gum arabic. Although it is more well know as a health supplement for one end (bum end)- it acts as a binder for fiber, to help move unwanted waste out of the colon. But in the mouth arena, it is antibacteria for harmful bacteria in the mouth. Leaving the mouth arena, it can also act a relief for sore throat, before it hits the stomach as soluble fiber, helping with blood sugar control and weight management. This is a pretty helpful bit of of gum, I'll say!
Camu camu, known as the "king of Vitamin C", is also rich in β-carotene, plant polyphenols, amino acids, minerals, and other essential nutrients - all for overall health.
For the digestion arena, Purificar provides 7 different types of enzymes, and soluble fiber.
Moving along, Purificar also has insoluble fiber (a blend of 5 types!), and pre-biotics to ensure intestine and colon health, helping to moving things along... and out!
Well, if you look at Naturally Plus' health supplements, it aims for wholistic, while targeting one area of health. Purificar is targeted at colon and intestinal health, but Purificar also is a health aid to the whole digestive tract - from mouth to end! (That's how I see it!)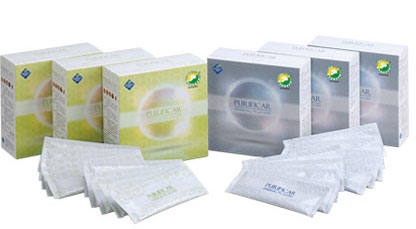 Apple flavor (left) and Original flavor
It comes in two flavors:
Original - this has a slight husk taste - only very slight. But if drank with juices, you'll never taste it.

Apple - this is the more palatable version.

---
Other Digestive Health Supplement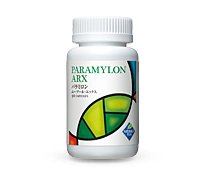 Paramylon ARX
Paramylon ARX is a supplement made from Euglena Gracilis and Friendly Bacteria, targeting Colon Health, and can result in Weight Loss.

---
Super Lutein, Izumio

One the other hand, Super Lutein and Izumio, antioxidants supplements that target overall well-being, also inevitably aid digestive and, colon and intestinal health.

---
Naturally Plus' Products

>
Return to the Top of Page - Purificar
Check out Naturally Plus' products today!!!
Go on, pamper yourself ... you deserve it!
Health and Food Supplements
... Naturally of the Best Ingredients
Natural Skin Care, Body Care
... for the Natural Beauty in You...
---
Please note the availability of products, can be different for each country or hub.
If the product you are looking for is not available in the salon of your country of residence or hub of your membership, please contact us.

---