Naturally Plus' Products' Testimonials on Diabetes Control and Healing of Diabetes Induced Health Issues

Leg Saved!
Diabetic Patient
Leg was scheduled to be amputated if the wound continued to deteriorate.
After taking Super Lutein and Izumio, not only was amputation averted but her sore healed!


Dosage:
Took 9 Capsules Super Lutein plus 1 pack Izumio daily

Within 2 months, wound was showing signs of healing
---
Another Leg Saved, true story, too!

Member had diabetes.
Wound on leg had deteriorated to a point where the bone was exposed
For each dressing appointment for the wound, at the doctor's, member asked the doctor to wash the wound with Izumio.
After one month of consuming both Super Lutein and Izumio, and cleaning the wound with Izumio, the wound started to heal.
---
Knock the Diabetes out of the Body, especially at its early stage!

No dosage provided.
But took the powerful combination of Izumio and Super Lutein.

---
A Common Diabetic Story - Foot Ulcer! This one Healed!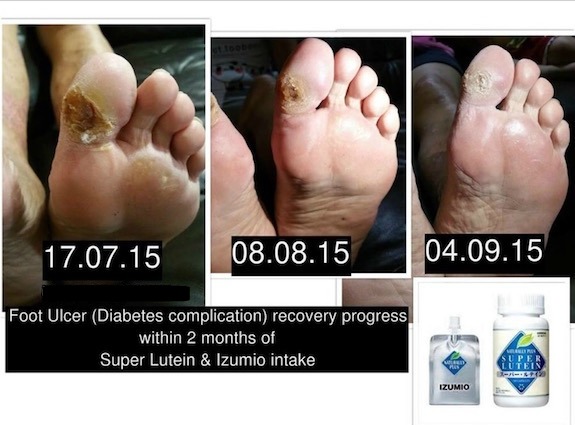 ---
Mr Peh's father suffered from diabetes for 20 years. The condition deteriorated through the years. It was at the stage of a wound that won't heal that Super Lutein and Izumio were introduced. As a result of taking Super Lutein and Izumio, the wound on his foot got better.
Dosage: 
Jan 2012: 15 capsules Super Lutein and 3 packet Izumio daily, for 4 months
March 2013: 9 capsules Super Lutein and 3 packet Izumio daily.
October 2013 till now: 4 Super Lutein Mirtoplus and 1 packet Izumio daily
---
Stuff Naturally Plus, the industry and the law wants you to read ...

While there are wonderful stories and testimonies of many who have used Naturally Plus' products with healing or positive effects, these do not guarantee the same effects on you.
Do note that the information on this page and throughout this website are purely for informational and educational purposes only.  You must not rely on these information, including but not limited to, for your health or beauty treatments, or any other treatments/cure/diagnosis/use. Nor shall these information be used as substitute, or additional information, to that given by your Health Care Provider. Please always seek the advise of you Health Care Provider, and/or any other specialist professionals.

For full disclaimer, please see our Disclaimer page.

---
Home

>
Return to the Top of Page - Global Testimonies
---
Check out Naturally Plus' products today!!!
Go on, pamper yourself ... you deserve it!
Health and Food Supplements
... Naturally of the Best Ingredients
Natural Skin Care, Body Care
... for the Natural Beauty in You...
---
Please note the availability of products, can be different for each country or hub.
If the product you are looking for is not available in the salon of your country of residence or hub of your membership, please contact us.

---